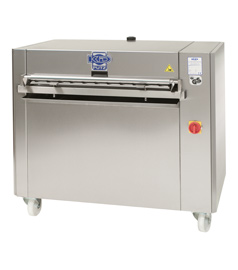 KD-Tray-Cleaner TUBUR 600 | 800 | 1000
KD tray cleaners for cleaning 2-edged baking trays and perforated plates Capacity: up to 1400 baking trays simul taneously cleaned and oiled per hour
Equipment
TUBUR BASIC
Housing completely in stainless steel
Fold-up cover with grip in stainless steel
Ergonomic input-height of 850 mm
Effective pre-scraper
Pull-in rollers made of full material
Four brushes with quick-fit couplings
Discharching-rollers made of full material
Dust-free oiling system
One dirt drawer in stainless steel
Built-in hole cleaning brushes for perforated trays as a second cleaning facility
TUBUR COMFORT
Housing completely in stainless steel
Fold-up cover with grip in stainless steel
Ergonomic input-height of 850 mm
Effective pre-scraper
Pull-in rollers made of full material
Four brushes with quick-fit couplings
Discharching-rollers made of full material
Dust-free oiling system
One dirt drawer in stainless steel
Second cleaning station with our new development for improved hole cleaning
One tray-trolley in stainless steel
Oiltank with automatic level-control
Hydro-package for improved wet-cleaning of the machine:
The

HYDRO – PACKAGE

for the

KD

-Tray-cleaning

TUBUR

-type machine optimizes the wetcleaning of the machine's interior. It contains e.g.:

Two brushes in 1.4310 stainless steel
Pre-scraper in 1.4310 stainless steel
Motor IP 66
All bearings and pressure-springs in 1.4301/1.4310 stainless steel
Four caster wheels with housing in stainless steel, each for up to 700 kg weight
TUBUR PREMIUM
Housing completely in stainless steel
Fold-up cover with grip in stainless steel
Ergonomic input-height of 850 mm
Effective pre-scraper
Pull-in rollers made of full material
Four brushes with quick-fit couplings
Discharching-rollers made of full material
Dust-free oiling system
Second cleaning station with our new development for improved hole cleaning
One tray-trolley in stainless steel
Oiltank with automatic level-control
Hydro-package for improved wet-cleaning of the machine:
The

HYDRO – PACKAGE

for the

KD

-Tray-cleaning

TUBUR

-type machine optimizes the wetcleaning of the machine's interior. It contains e.g.:

Brush in 1.4310 stainless steel
Pre-scraper in 1.4310 stainless steel
Motor IP 66
All bearings and pressure-springs in 1.4301/1.4310 stainless steel
Four caster wheels with housing in stainless steel, each for up to 700 kg weight

Two-Tray-Stop (TTS) TTS prevents two trays being drawn into the machine simultaneously
Mobile dirt drawer on wheels
Dirt-barrier made of stainless steel with comb-brushes
Working Principle
You insert the baking ray – dirty side down – into the entry opening above the pre-scaper. It is then drawn into the machine by the feeding rolls and transported between the two fast revolving brushes which clean both sides of the tray dry. The discharching rolls extract the tray out of the brushes and pass it into the next cleaning station and through the greasing system.There the tray is greased dust free and then transported onto the tray trolley. The dirt is fallen into the large mobile dirt drawer accessible from the back of the machine. The loading height of 850mm (33.5″) is strandard at this model. Up to 100 baking trays are cleaned and greased simultaneously in 5 minutes.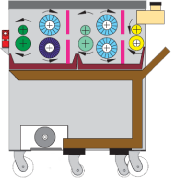 Technical Data Basic / Comfort / Premium
TUBUR 600
TUBUR 800
TUBUR 1000
Backing tray width
250 mm – 600 mm
601 mm – 800 mm
801 mm – 1000 mm
Machine width
920 mm
1120 mm
1320 mm
Machine depth
without / with oil tank
1050 /1100 mm
1050 /1100 mm
1050 /1100 mm
Machine height
1050 mm
1050 mm
1050 mm
Weight approx.
405 kg
445 kg
485 kg
Motor power 400V
(3 PH+O+E)
1,1 kW
1,1 kW
1,1 kW
Right to technical changes reserved.
Working principle of the integrated hole cleaning TUBUR